Playing off the popularity of the
traveling exhibit of the Treasures of Tutankhamun
, actor/comedian Steve Martin debuted his parody song "King Tut" on an episode of Saturday Night Live in the spring of 1978.
Not long after, the single — credited to "Steve Martin & The Toot Uncommons" — reached #17 on the Billboard Hot 100 chart, and went on to sell more than a million copies. Here's how it all began.
Steve Martin – 'King Tut': Not just another piece of 'Tut glut'
Excerpted from an article by Ben Fong-Torres, Rolling Stone
I'm sure that I'm as sick as you are about the ongoing exploitation of a dead boy. I'm talking, of course, about Tutankhamen, or King Tut, the boy king of Egypt (reigned 1344-1325 BC) whose burial treasures, unearthed 56 years ago in the Valley at the Kings, are on an American tour.
Tutmania has resulted in a glut of Tut toys and trinkets, posters and T-shirts that say things like DON'T TOUCH MY TUTS.
One man who shares my sickness and who has done something about it is Steve Martin. His single, "King Tut," is a clarion call against commercialization. The fact that it has already sold 300,000 copies and is high on the charts indicates that there are a lot of us who are fed up with the peddling of Tut.
MORE: Treasures of Tutankhamun exhibit toured the US in the '70s, and shared ancient Egypt with millions
"King Tut came to me in a dream and told me to do this," says Martin. "He told me he was tired of all the commercial rip-offs on his name, and he wanted me to write a song."
Why did Tut choose Steve Martin, the comedian, and not a more established protest songwriter like Bob Dylan or Helen Reddy?
"I was the only one who realized you could spell his name backward and it'd be the same," said Martin. "Tut wanted me to give the facts about his life, like how he was Boss Tut. And in the song. l say. 'He's an Egyptian.' See, it's instructional."
Part of the fun at "King Tut" is its disco feel, with Martin dipping into falsetto for a line or two. What inspired that?
"Jeff Hanna (guitarist with the Dirt Band) came to me in a dream and told me to sing that line in falsetto," said Martin.
Did the boy king know that Martin would give the song a disco sound? Martin, upset by the insinuation, got… instructional.
"If you listen closely to the song," he sneered, "and if you're familiar with Egyptian music, you can hear a lot of the old modalities and tones they used then. Some of the same notes they used back then are in this song."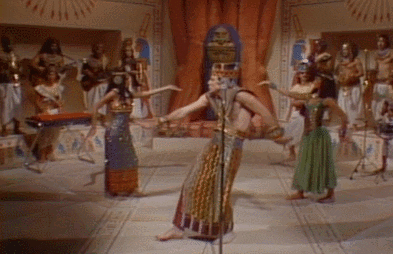 Also, the line, "How'd you get so funky?" was not a rip-off of R&B lingo. "That refers to his odor," Martin said, "'cause when he came to me in my dream, he was in his jammies, and he'd been buried in them for 4,000 years."
As for the line, "Did you do the monkey?" Martin said he thought of the question only after he'd awakened, "and that's why the question is unanswered on the record."
But he was happy to leave the issue unresolved. "You see, there has to be an element of mystery. Once the public understands somebody completely, they desert him."
MORE: When King's Tut's tomb was first opened, how the world reacted to the wonders inside (1923)
Does that theory apply to Steve Martin as well?
"Well," he said, "I'm going to release a song pretty soon that says, 'Steve Martin, did you do the monkey?'"
One last question: Has Tut visited him since the release of the record?
"No," he said, "but I think once the record breaks into the Top 10, he'll visit again. With his agent."
---
Steve Martin "King Tut" – Saturday Night Live (video from 1978)
---
Steve Martin "King Tut" song lyrics
King Tut (King Tut)
Now when he was a young man
He never thought he'd see
People stand in line to see the boy king
(King Tut) How'd you get so funky?
(Funky Tut) Did you do the monkey?
Born in Arizona
Moved to Babylonia (King Tut)
Now, if I'd known
They'd line up just to see him
I'd've taken all my money
And bought me a museum (King Tut)
Buried with a donkey (funky Tut)
He's my favorite honky
Born in Arizona,
Moved to Babylonia (King Tut)
(Tut, Tut) Dancin' by the Nile (disco Tut, Tut)
The ladies love his style (boss Tut, Tut)
Rockin' for a mile (rockin' Tut, Tut)
He ate a crocodile
He gave his life for tourism
Golden idol
He's an Egyptian
They're selling you
Now, when I die
Now don't think I'm a nut
Don't want no fancy funeral
Just one like ol' King Tut (King Tut)
He coulda won a Grammy (King Tut)
Buried in his jammies
(Born in Arizona, moved to Babylonia)
(Born in Arizona)
Got a condo made of stone-a
(King Tut)